DRAGON, REST YOUR
HEAD ON THE SEABED
2018
Dance, synchronized swimming
"Water flows through and across difference."
Astrida Neimanis
Composition for six synchronized swimmers and a swimming-pool looking at dance, sport and speculative fiction from a hydro-feminist perspective.
The surface of the pool becomes the screen where the fiction plays out: a transindividual self that is dismembered and joined together through liquid and formed by the multiple subjectivity of the six swimmers.
Usually, at a synchronised swimming competition the judges deduct marks for not smiling, for having strands of hair out of place or for touching the bottom of the pool. In this dishevelled dragon, similarity, difference, synchrony and asynchrony all coexist. It doesn't always smile and not only does it touch the bottom of the pool, it lies in rest there.
Dragon, rest your head on the seabed
is the first installment of the Dragon Pieces, a series of works initiated by Pablo and Federico that fluctuate between monstrosity and transindividual fantasy. Through practices as diverse as synchronized swimming or Role Playing Games, the Dragon Pieces explore representations of collectivity that question hegemonic forms of belonging and narrating ourselves.
CREDITS

Concept & choreography Pablo Lilienfeld and Federico Vladimir

Performed by Julia Echevarría, Andrea Fuertes, Conchi Iruela, Esther Mora, Carolina Pino and Irene Toledano

Costume design: Roi Pardo

Make up artist: Lucía de la Fuente

Light design: Maxi Gilbert

Music: Pablo Lilienfeld

Performance coach: Alessandro Sciarroni

Trainer: Alicia Sanz

Video documentation: Federico Vladimir

Production: Ciertas Producciones and Veranos de la Villa

A Veranos de la Villa 2018 production

The research phase was conducted as part of the Research Studios program at P.A.R.T.S., in Brussels

Acknowledgments: Maral Kekejian, AD Sincro Retiro, Centro Deportivo Municipal de Vicálvaro, Lola Lasurt, Julia Rubies Subiros, Virginia Galván, María Gómez and Bojana Cvejic

PRESENTATIONS



01/07/2023
Festival Belluard Bollwerk International, Fribourg, Switzerland

30/9/2022
Dangerous When Wet, Copenhagen Contemporary Curated by Mette Woller

9/9/2022
Festival Pedra Viva, Hauser & Wirth gallery, Menorca

18-27/07/2019
Site-specific version
La Alhóndiga / Azkuna Zentroa, Bilbao

5+6/07/2019
Santarcangelo Festival, Italy

Premiere 22+23/08/2018
Veranos de la Villa, Madrid

PRESS REVIEW

"The gap between the individual and the collective, the synchronous and the asynchronous, the similarities and the differences, the traditional dichotomies, was dissolved. The concepts existed simultaneously in the water, flowed out, just as the swimmers moved both under and over the water. At times it was almost as if the dragon could walk or glide on the surface of the water. I got sensations of a kind of code embedded in the work, a corporeal water script, perhaps an extended écriture féminine, where moving meanings emerged in differences and similarities, in the vicissitudes of dis- placements, as the dragon swam, danced forward.
...a series of gentle curves, bellies up against the water's surface, mermaid and dolphin creatures, fascinated and moved me just as deeply. The performers also continually form new constellations with and against each other, where bodies are put together underwater, giving birth to new creatures both beautiful and monstrous."
Mette Garfield for Bastard

"Out of the ensuing interaction between group and individual, synchronous and asynchronous, the 'dragon' is born, the anarchic creature that writhes in the water, constantly changing shape until it finally dissolves.
A free space where order and disorder, the common and the individual coexist and are gloriously free from judgement. A sense of the interconnectedness of everything, with water as the element that connects. Perhaps this is the essence of hydrofeminism materialised in an exhibition."
Helle Fagralid for kunsten.nu

"Fiction becomes tangible matter, a corporal state. Playing with the idea of a fictitious identity and the possibilities given to us by the unreal (yes, we can dance, rest and move inside water, we can be monstrous and defy the states of matter), this dragon doesn't represent an established musicality nor does it fill in pre-determined choreographic pigeon holes. Tonight this monster has existed for fifty-five minutes in this dry Madrid summer night, which from now on is also marine".
Ana Folguera for EXIT Express

"Six impressively cool swimmers, described as 'transindividual bodies', performed a frantic game of deconstructed, deliberately ugly, but at the same time very beautiful and super-pro synchronised swimming added to pulsating techno music."
Mette Sandbye for Weekendavisen

Photos by Andrea Beade and Enrique Escorza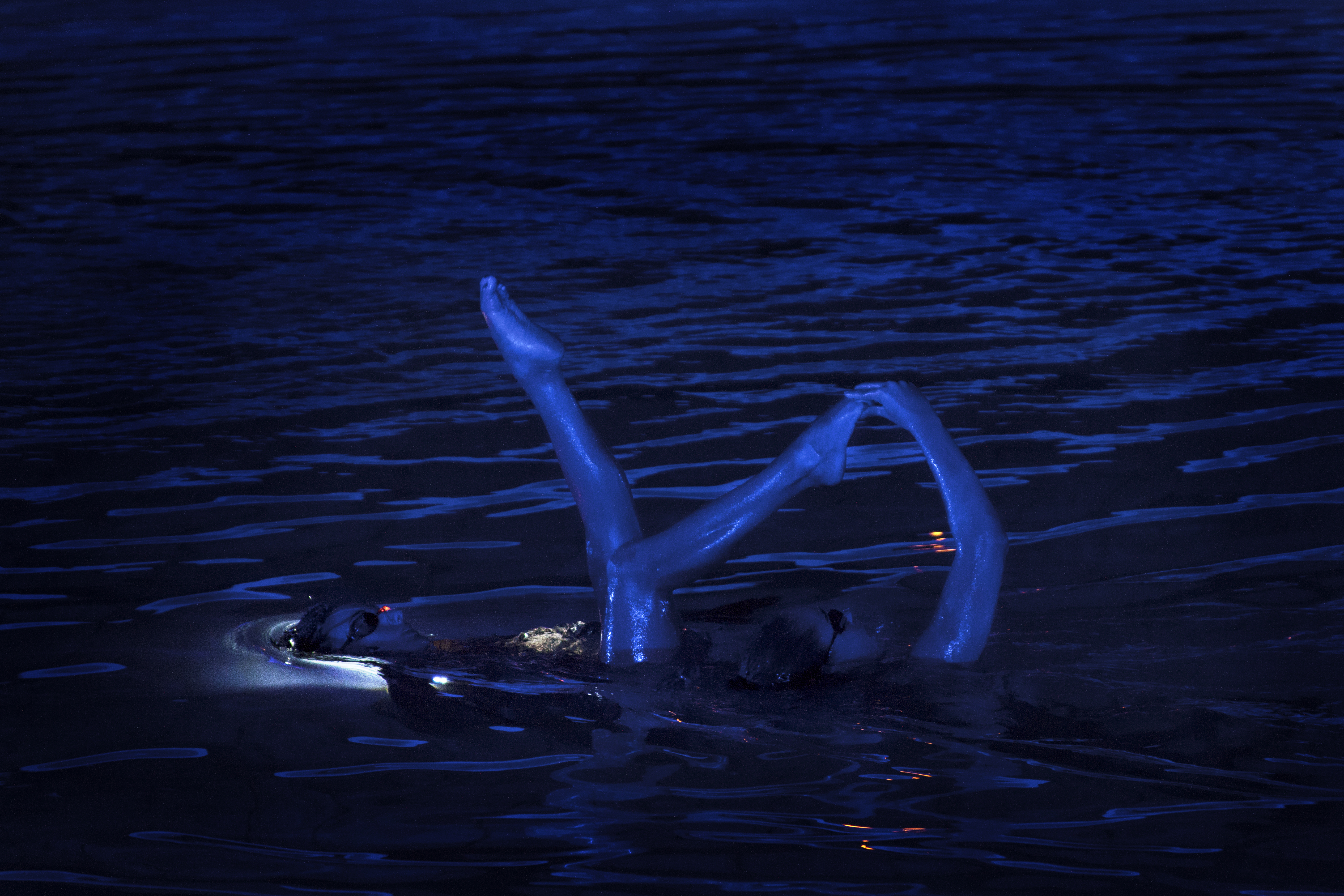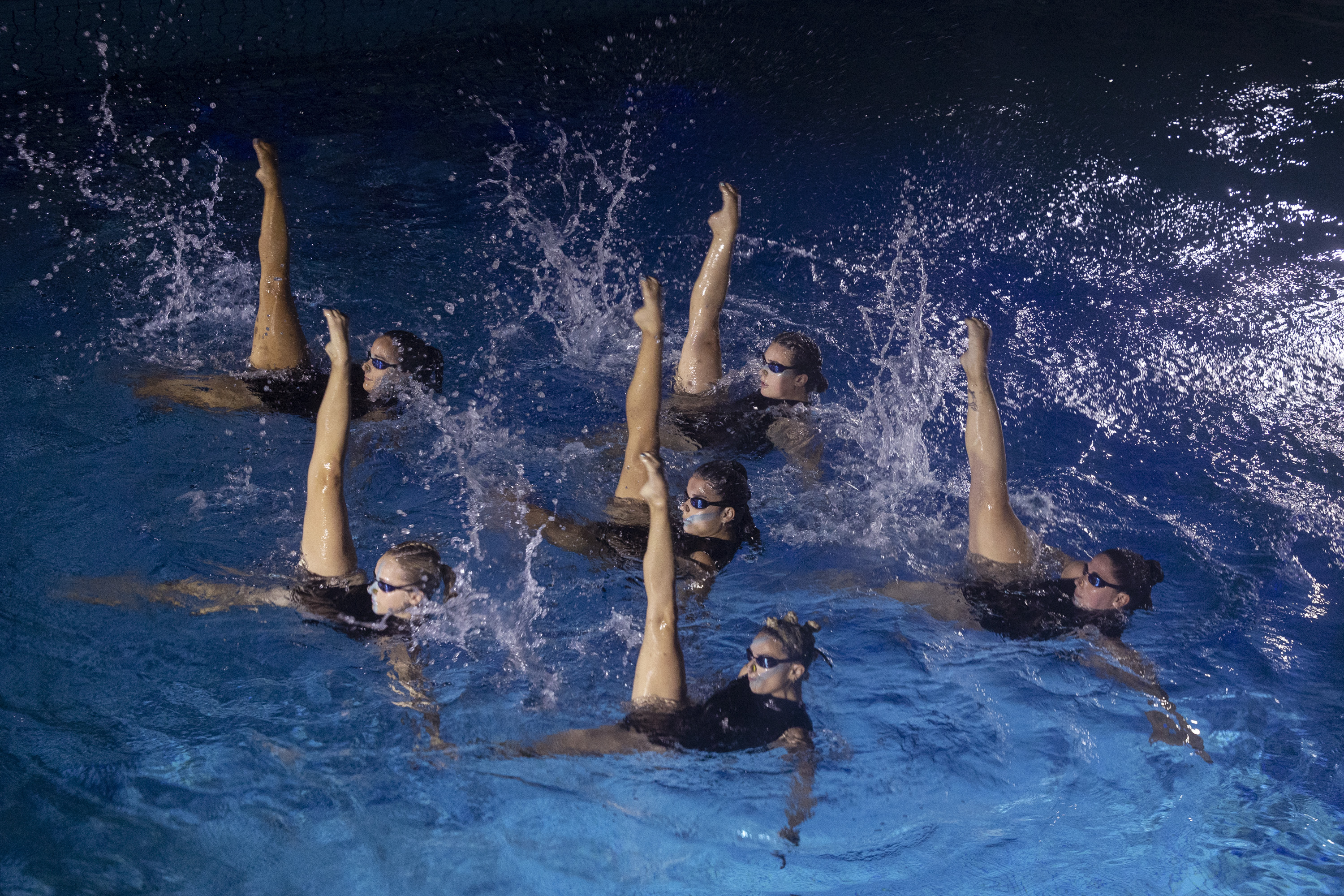 Dangerous When Wet, Copenhaguen. Curated by Mette Woller. Photos by Frida Gregersen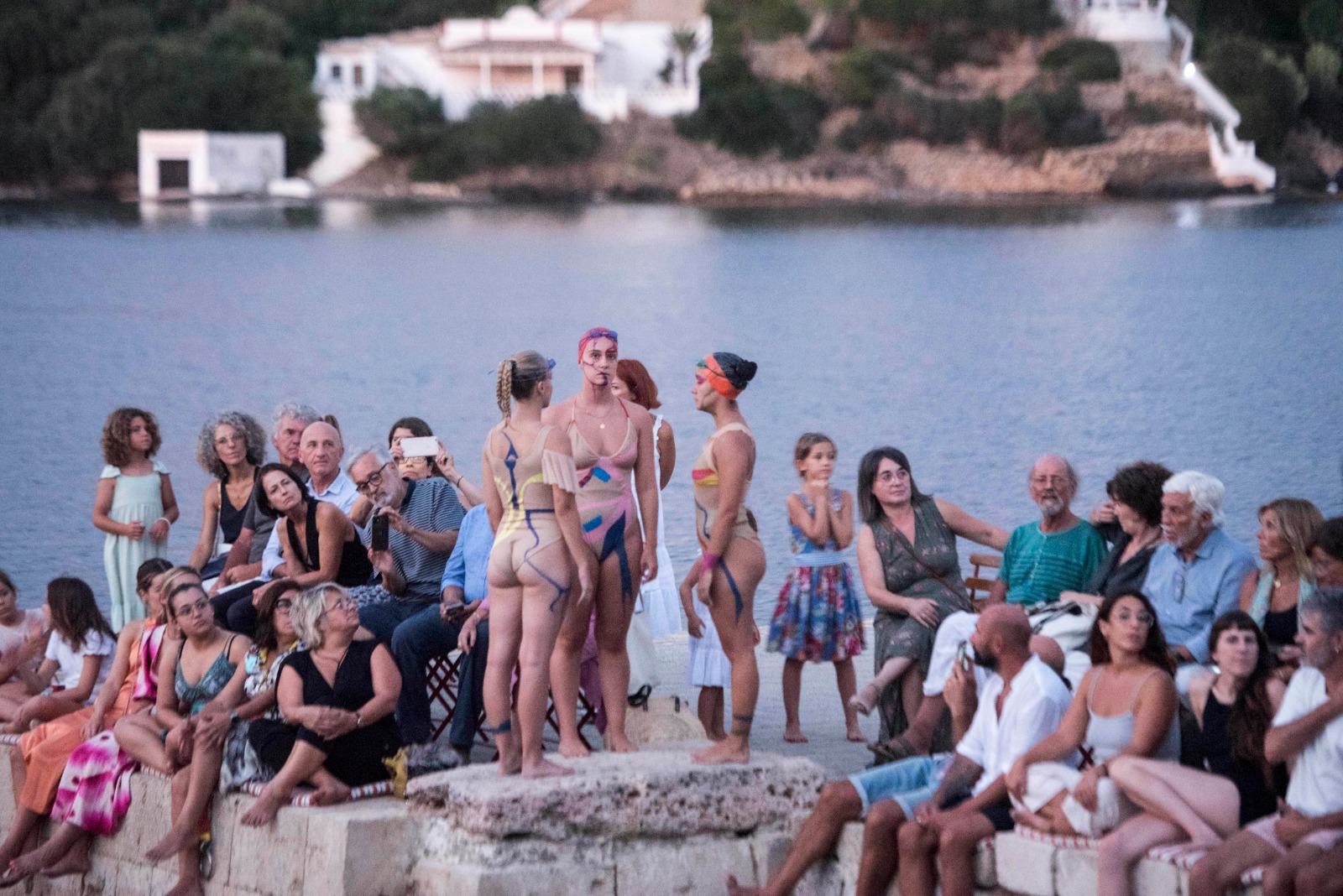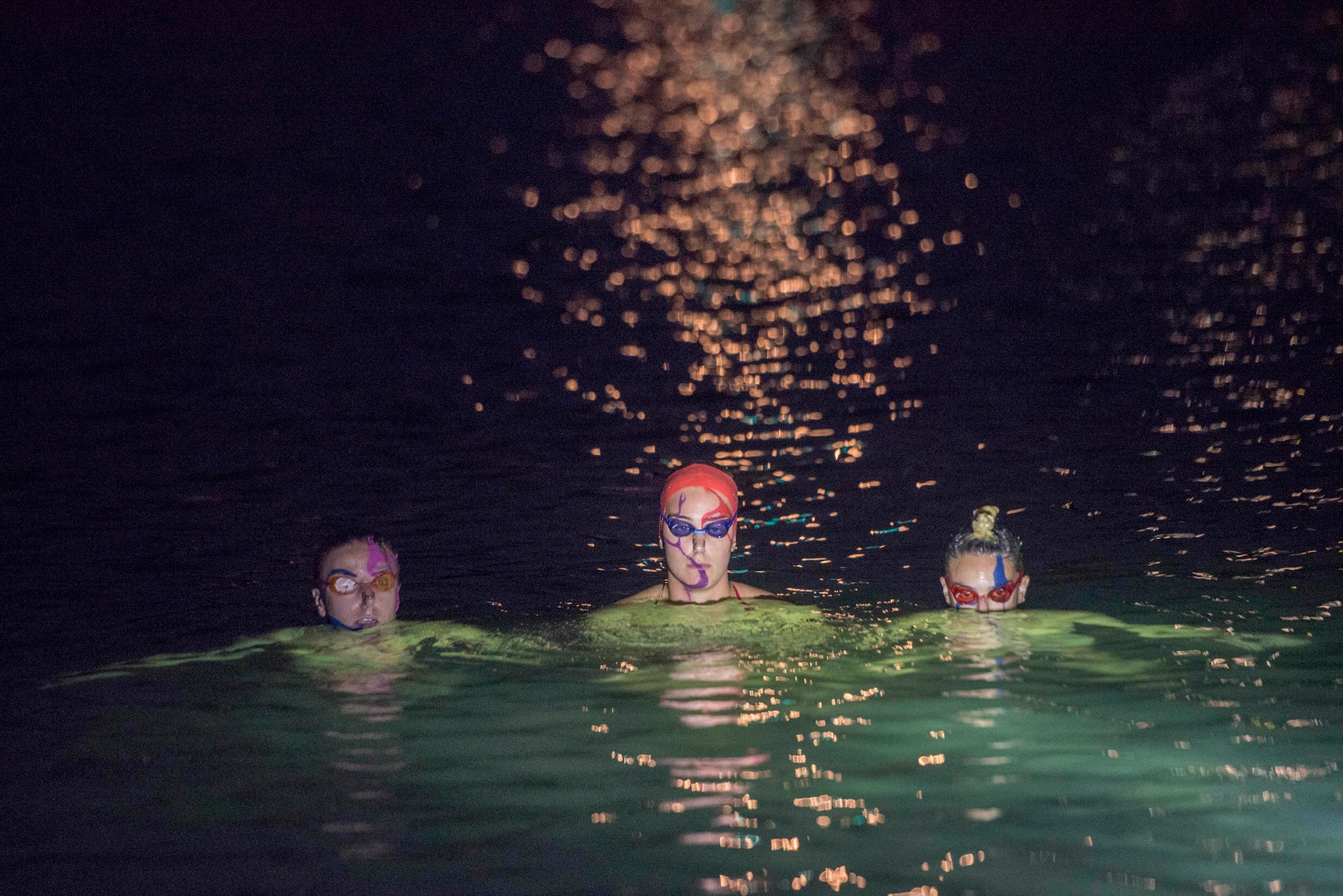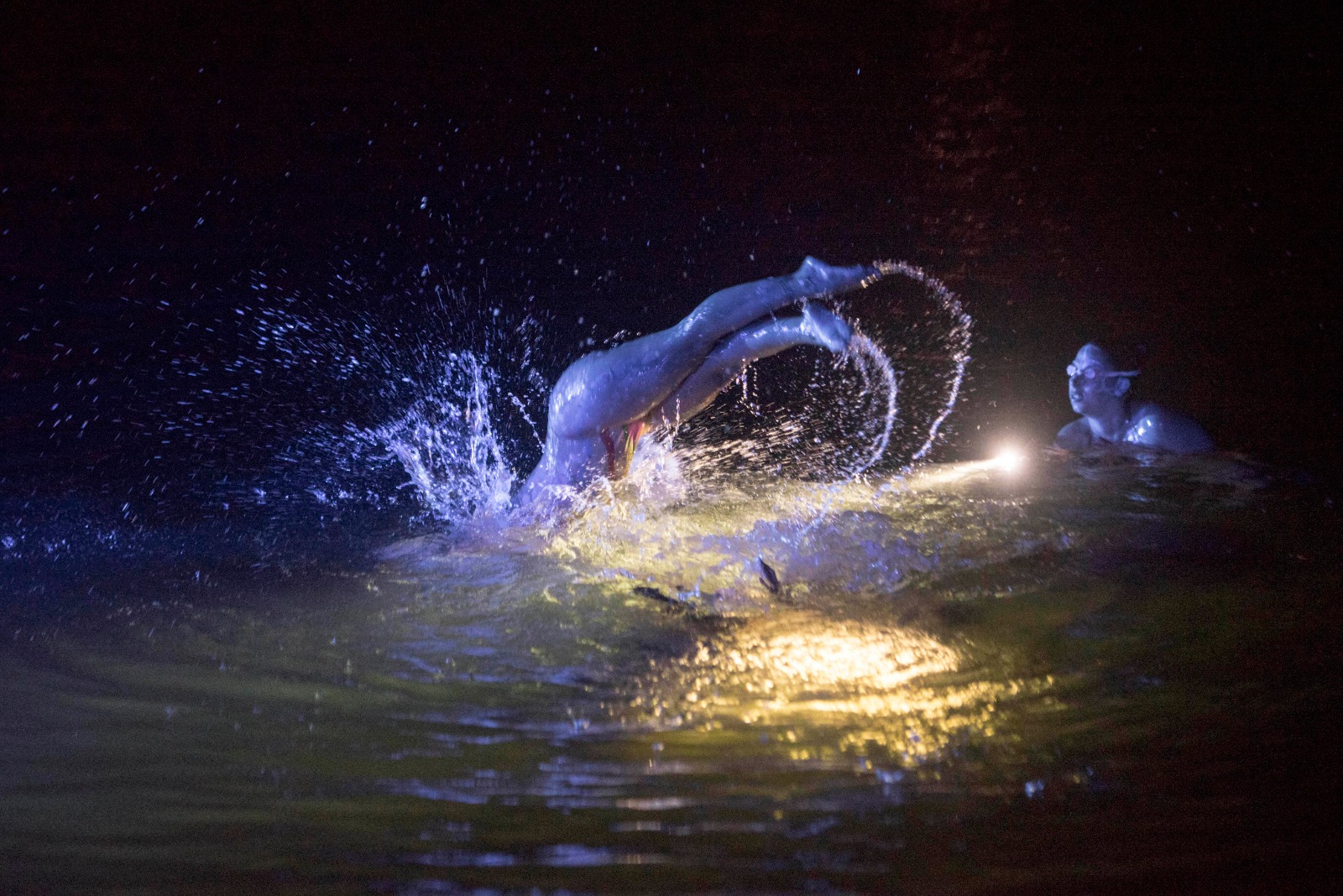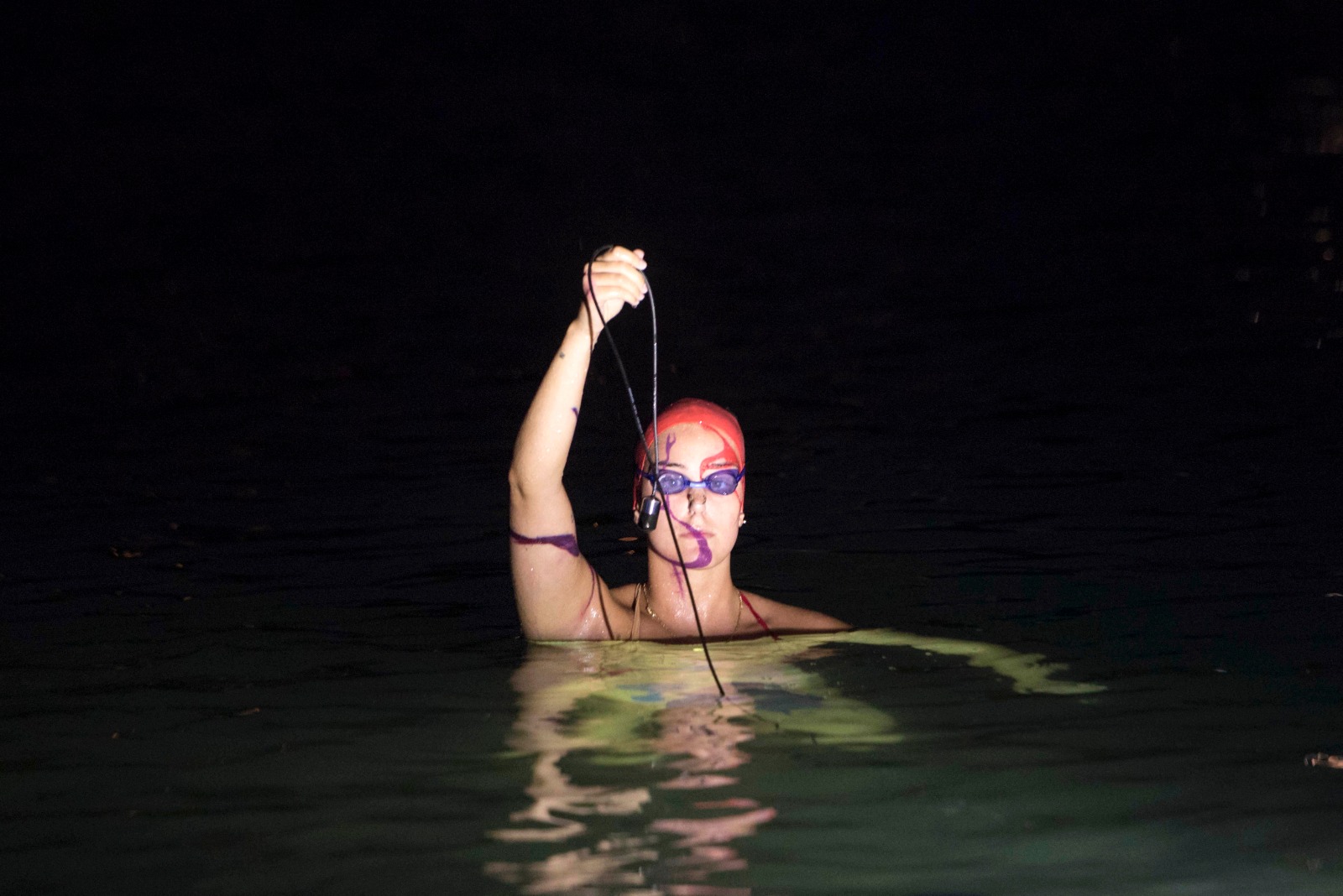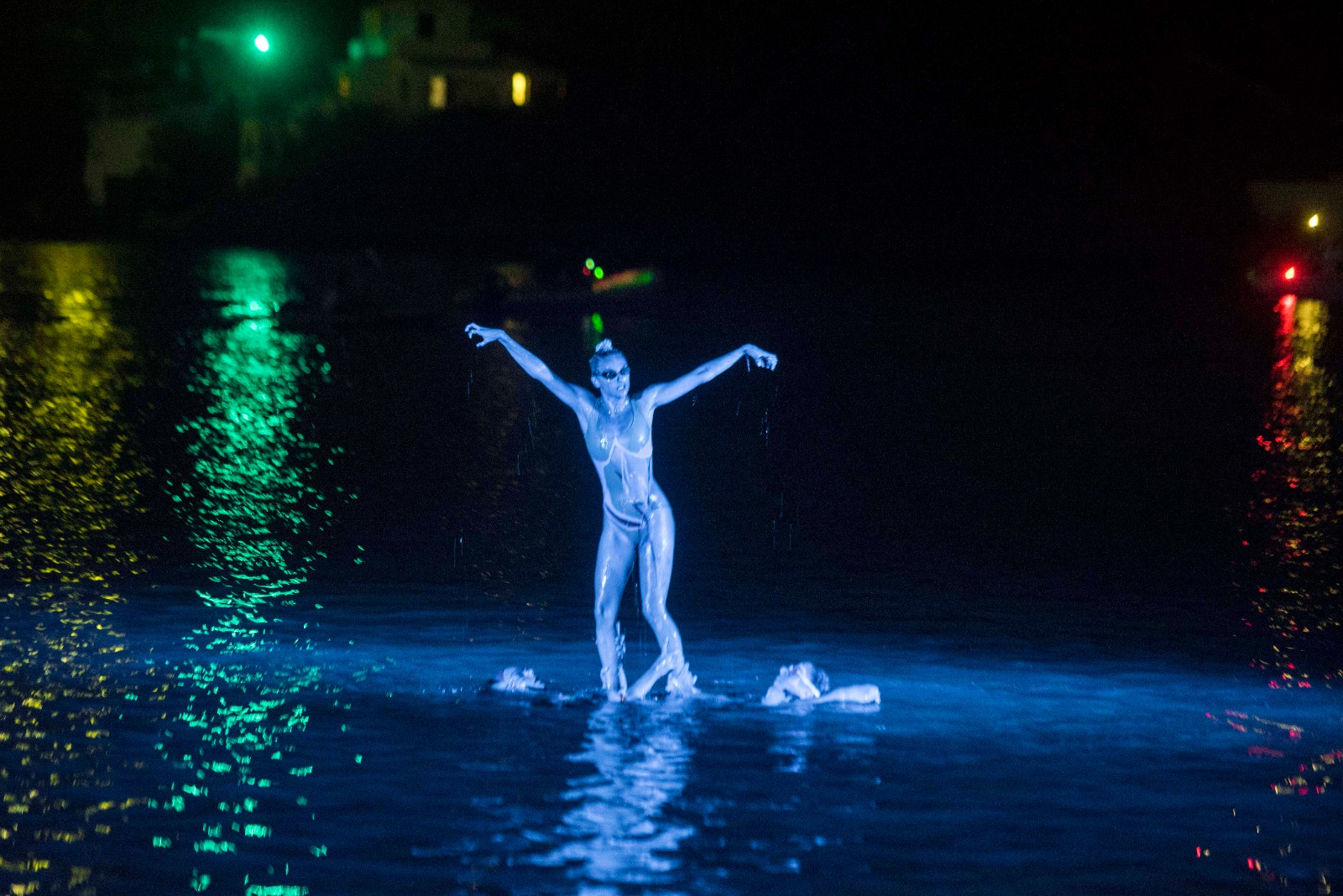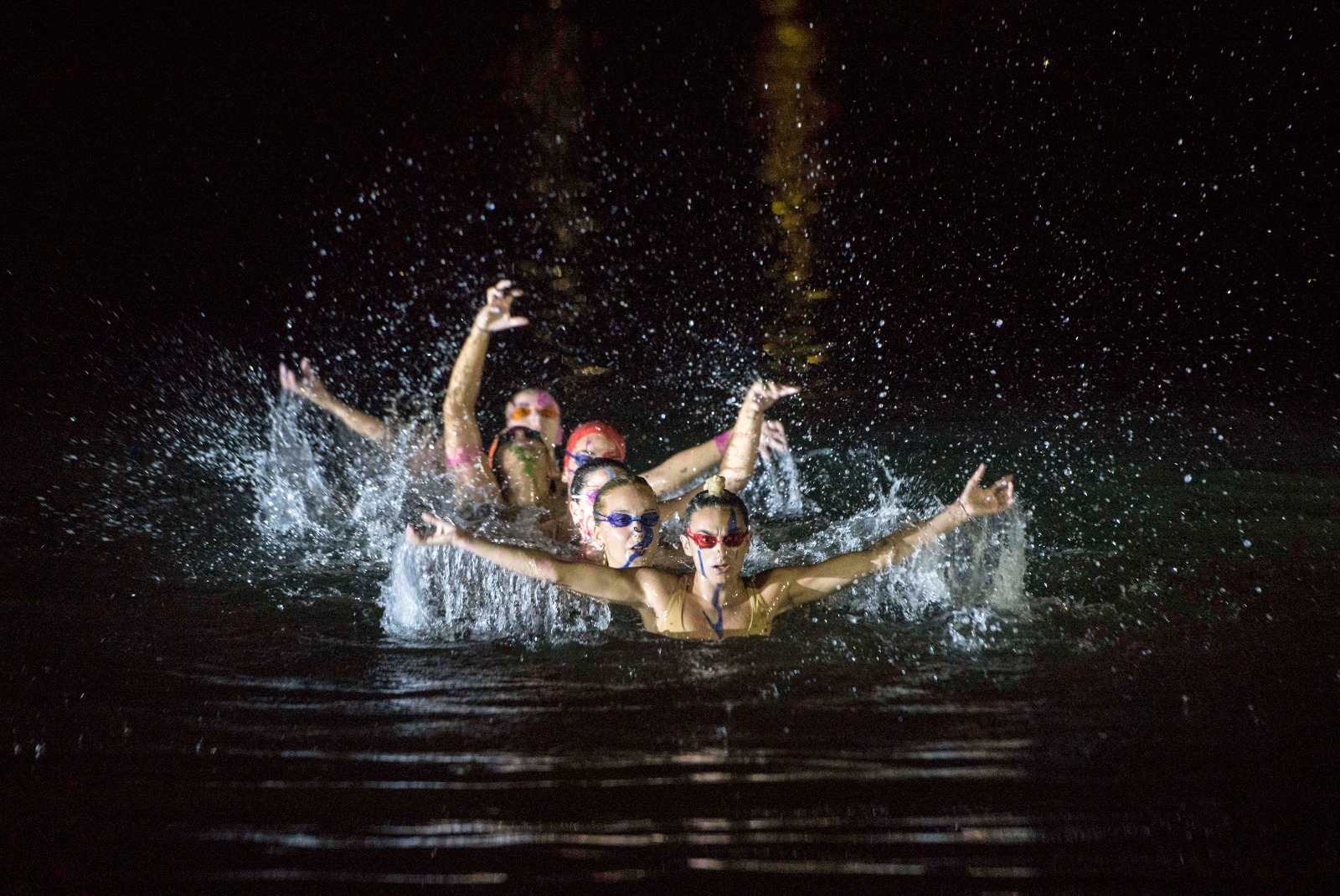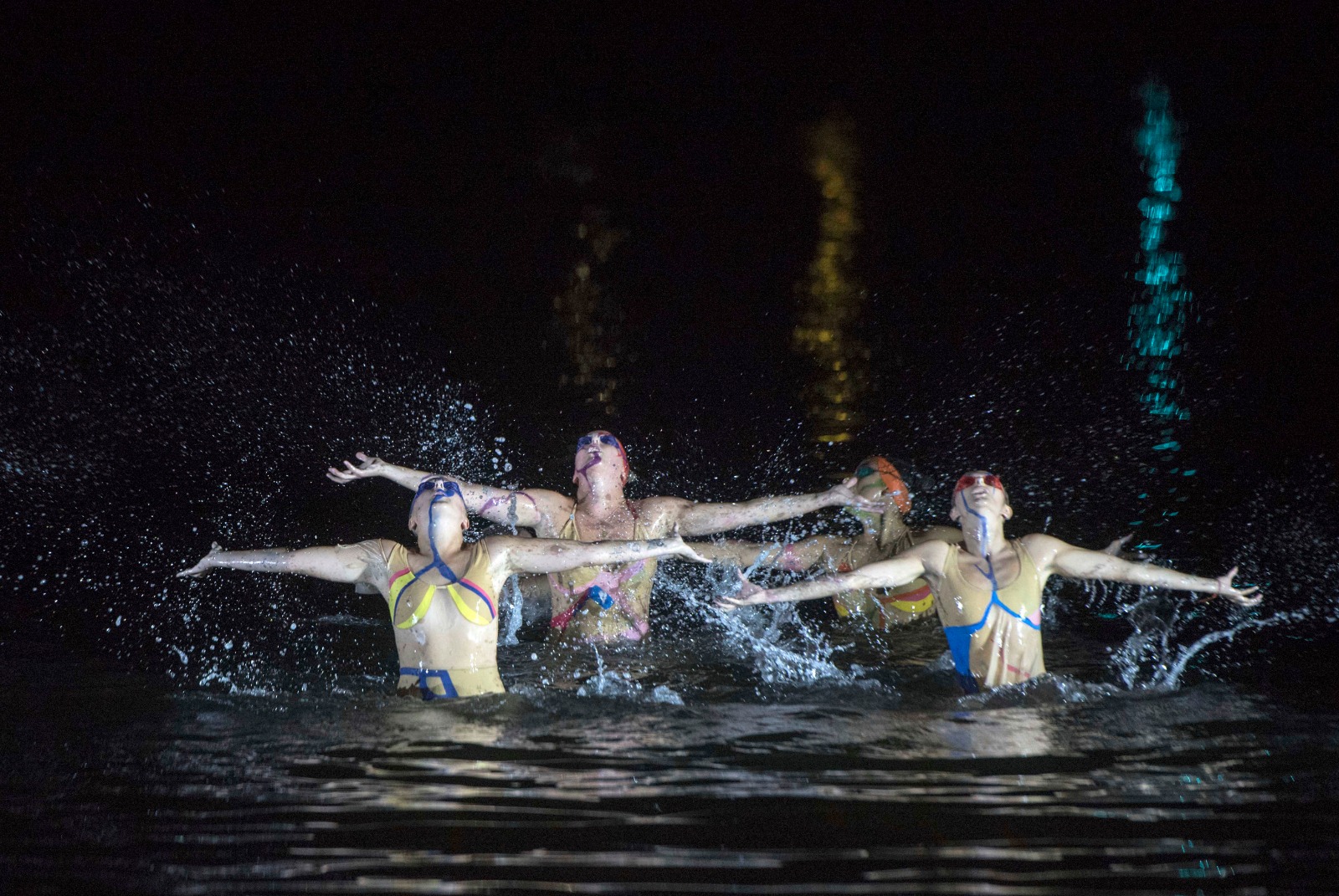 Hauser & Wirth Menorca - Pedra Viva Festival. Photos by David Arguimbau